Barek is CFTS accredited. What are the benefits for your business?
Here at Barek, we recently became CFTS accredited to give Thorough Examinations for fork lift trucks. It's an achievement that we are proud to have received and are also pleased to offer to our clients from here on.
But what does it mean to you and your business? Here we have outlined the main points to show how we can ensure your forklift trucks are kept in safe working order.
What is CFTS and why is it so important to the lift truck industry?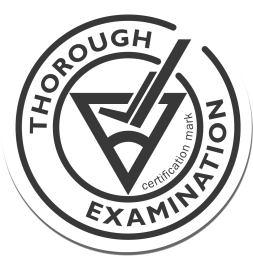 CFTS (Consolidated Fork Truck Services) has been the fork lift truck industry's own adopted standard for Thorough Examination since 2004. It is the national accreditation scheme for Thorough Examination, specifically for companies who service fork lift trucks. It's similar to the standard that regulates a car's MOT test.
PUWER and LOLER regulations legally require all lift trucks to have a valid Certificate of Thorough Examination. And, to clarify the standard of these examinations, the industry's major trade associations worked together – in consultation with the Health and Safety Executive – to give clear, consistent and definitive procedures to follow.
Always look out for the distinctive CFTS mark: it's your guarantee that a Thorough Examination is full and valid under law and will be carried out by a fully trained engineer in accordance with strict quality procedures.
What is a Thorough Examination for my forklift?
Thorough Examination is a mandatory check to ensure that the mechanical parts of your forklift are in safe working order.
It is not the same as regular maintenance – so you will need one whether or not you've just had the truck serviced. Thorough Examination is a legal requirement and must take place at regular intervals.
How often do I need a Thorough Examination for my forklift?
A Thorough Examination must be carried out at least once a year, but this could be more depending on what kind of trucks you are running.
The CFTS offer a handy online calculator to help you find out when your next Thorough Examination is due.
Whose responsibility is it if I hire or lease my forklift?
When a forklift truck is owned outright, responsibility for its Thorough Examination is straightforward. But when it is hired or leased, you may be wondering who is responsible then?
If the truck is leased or rented on a long-term basis(12 months or more), the responsibilities are the same as if it was owned outright, and the duty remains with the employer of the truck operator.
If the truck is provided on a short-term basis (one day to one year) the forklift hire rental company has responsibility for arranging Thorough Examination as its owner. However, the employer of the truck's operator must still satisfy themselves that the truck carries a valid Thorough Examination – usually by insisting on having a copy of the Report of Thorough Examination included with the rental documentation.
The truck must have a valid Report of Thorough Examination whenever it leaves one owner or when it changes hands or is transferred between companies.
Under Health and Safety legislation, the employer of the forklift truck operator has a duty of care to ensure the equipment is safe: "It shall be the duty of every employer to ensure, as far as is reasonably practical, the health, safety and welfare at work of all his employees." -Health & Safety at Work Act, 1974-
Any further questions? Just ask us…
For peace of mind, it makes sense to get your Thorough Examination from a CFTS-accredited company such as Barek. The CFTS seal is your guarantee that your truck will actually be examined carefully and that key components such as brakes and steering will be checked along with the lifting mechanism.
If you require any further information or want to speak to us about your Thorough Examination, call our Hull office on 01482 218151 or email us at info@barek.co.uk