Meet our electric counterbalance forklift trucks
Our range of TCM electric counterbalance trucks offers a choice of three-wheel and four-wheel vehicles that combine innovative design with outstanding performance.
If you are interested in reducing your carbon footprint and opting for a fleet of electric forklifts for your business, then here is the lowdown on our current range…
The strong, intelligent, 3-wheeler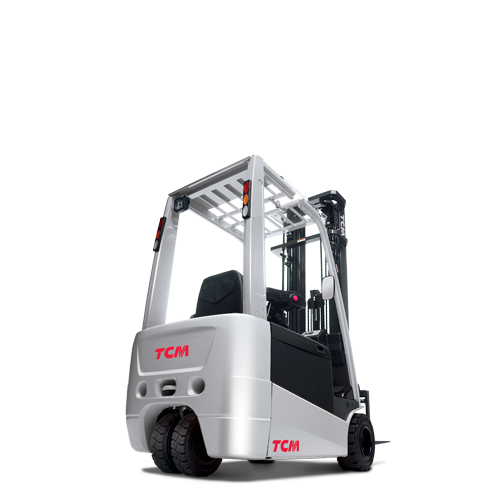 This FTB may only have 3 wheels, but it is comfortable, industrious and efficient. It's perfect for smaller working environments, where small manoeuvres are key. It is quiet and easy to drive, with many car-like characteristics, meaning the operator is always in control. It can also be customised for up to five different drivers – so that it's always suited to their driving capabilities.
BEST FOR
Operating in smaller spaces
Multiple drivers
Easy servicing
Acceleration control
Low maintenance costs
KEY FEATURES
Compact design
Acceleration control
Generous headroom
Optional roller battery
Steering wheel synchronisation
Maintenance-free brakes
Built-in trouble-shooting system
The high-performance long-distance sprinter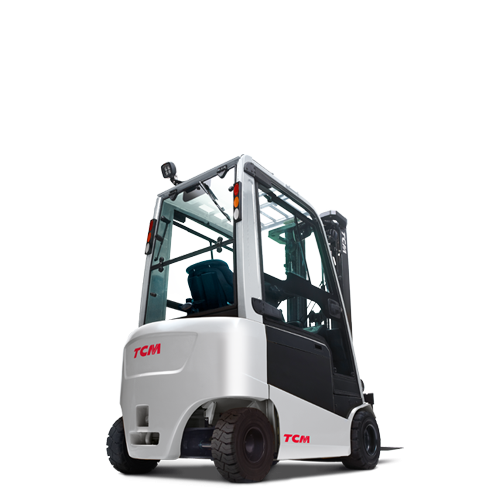 If it's a smart multi-tasker with high efficiency and a stable counterbalance for handling heavy loads that you are seeking, then this FHB is the one for you. This is one of the fastest counterbalance trucks in its class, with top speeds of 21 kph, making it perfect for long-distance jobs. It also offers a very comfortable and ergonomic ride with adjustable seats, fingertip control and generous headroom in the cabin.
BEST FOR
Long distances
High speed
Heavy loads up to 3.0 tons
Comfort and customisation
Rapid troubleshooting
KEY FEATURES
Steering wheel synchronisation
Class-leading top speed up to 21 kph
Driver-tailored performance
Safety-enhancing load sensors
Spacious cabin with advanced ergonomics
The smooth operator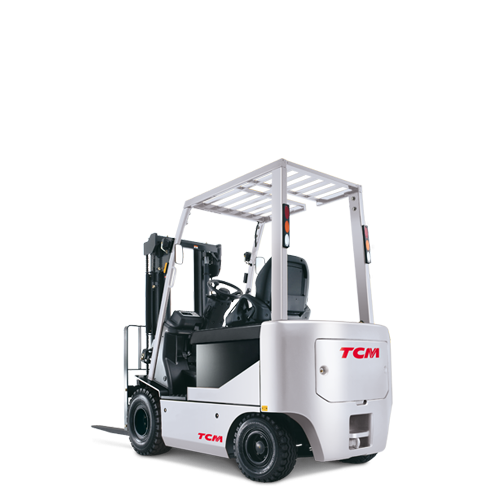 With a perfect balance for its operator and its environment, this FBJ really is a smooth machine. Part of TCM's leading FBJ Series, this is a progressive evolution of the electric-powered forklift with many advanced features, including a fully AC-powered system. It's remarkably high battery operating hours combined with its power and speed capabilities make this one of the leading trucks in the electric market.
BEST FOR
Top engineering design
High operating hours
High lifting speed
Low noise
Rollback control
Comfort & space
KEY FEATURES
AC-powered system
Multifunction LCD display
Ultra-low noise levels
Right angle stacking aisle
Rollback control device
Generous foot & legroom
Low floor height
The tough all-rounder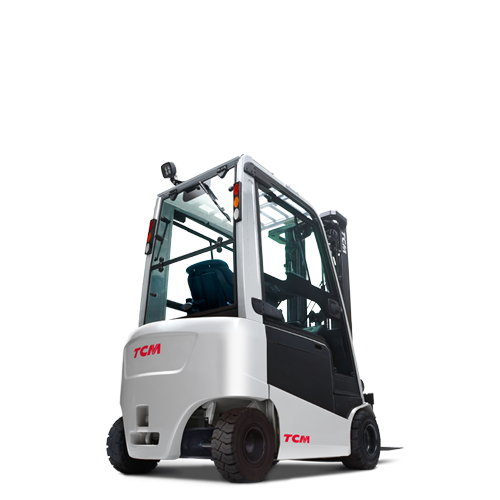 Highly efficient and able to lift up to 2.0 tons, this FB is a tough, yet compact driving partner. It is ideal for warehouse and factory floors and is suitable for driving on uneven surfaces. World-class ergonomics come as standard with fingertip controls, generous headroom and customisation for up to five different drivers. Easy to service and great to drive, this is a great addition to your electric fleet.
BEST FOR
Warehouses & factory floors
Uneven surfaces
Control at low speed
Multiple drivers
Rapid troubleshooting
KEY FEATURES

Battery charging system
Acceleration control
Lifting up to 2.0 tons
Driver customisation profiles
Maintenance-free brakes
Advanced ergonomics & spacious cabin
If you are keen to know more about our electric counterbalance trucks or have any questions, then please feel free to give us a call on 01482 218151 or email us at info@barek.co.uk